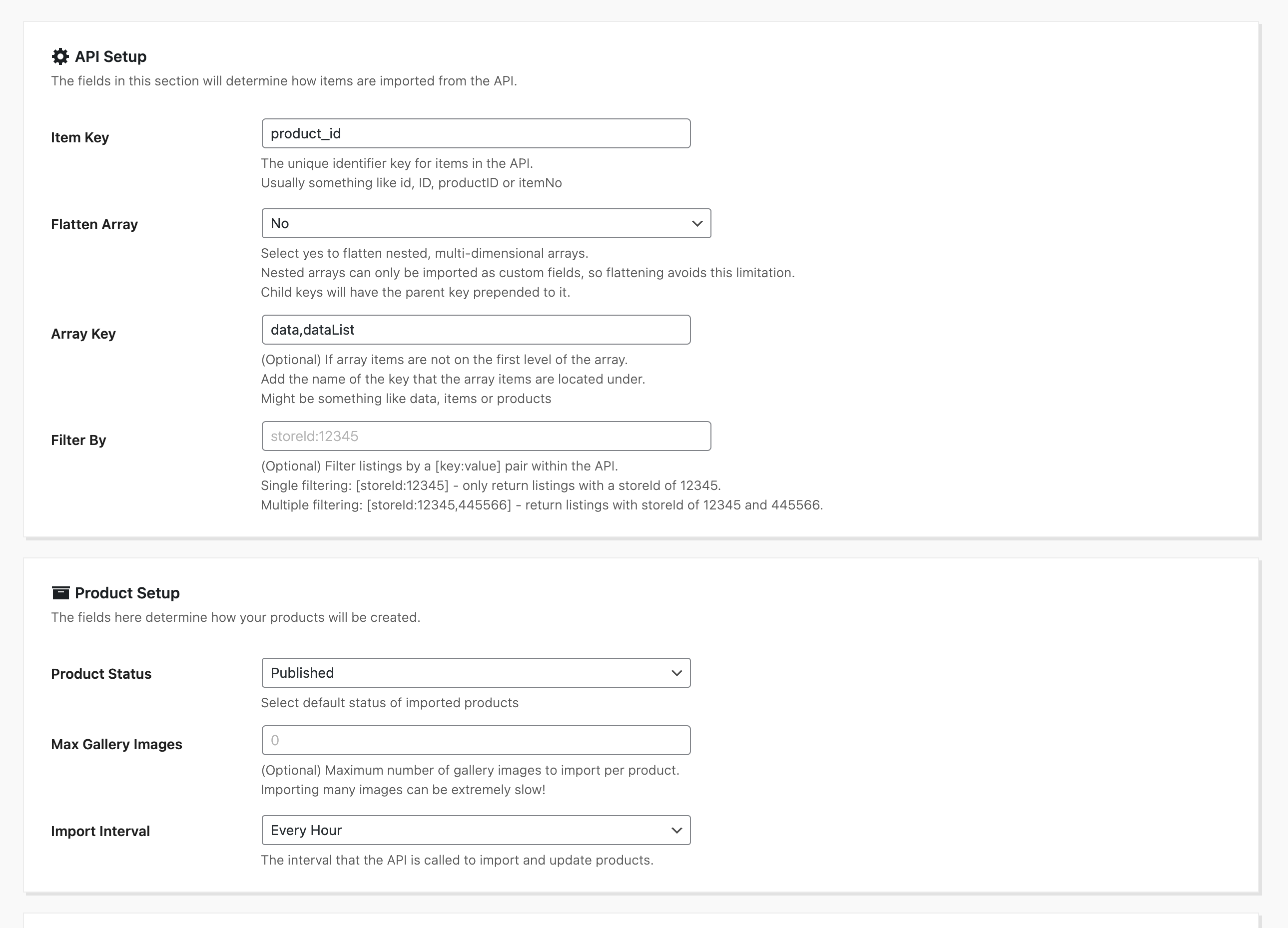 Create WooCommerce products from API's
Retrieve items/listings/products from virtually any REST API and then create WooCommerce products from these items. API fields can be mapped to WooCommerce fields, custom fields, categories and tags as well as importing featured images and gallery images.
Get the plugin
$119.00 $109.00
Single Site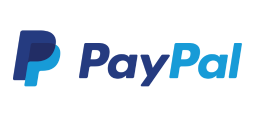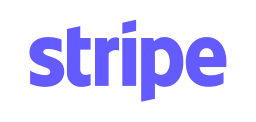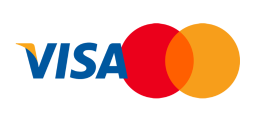 Feature packed to make importing easy!
cloud_sync
In Sync
Automatically keep products in sync with your API by choosing the sync interval time.
sync_alt
Map Fields
Map the fields (or keys) from the API items to WooCommerce fields and custom fields.
add_photo_alternate
Import Images
Import and upload images into your site and set as the featured image & image gallery.
settings_suggest
Background Processing
Huge API's are no issue as all importing and product creation is handled in the background.
layers
Paginated API's
Ability to call successive pages of a paginated API (only for '_links' type pagination).
dataset
Dashboard
Preview your API items and get recent import and product creation logs from the dashboard.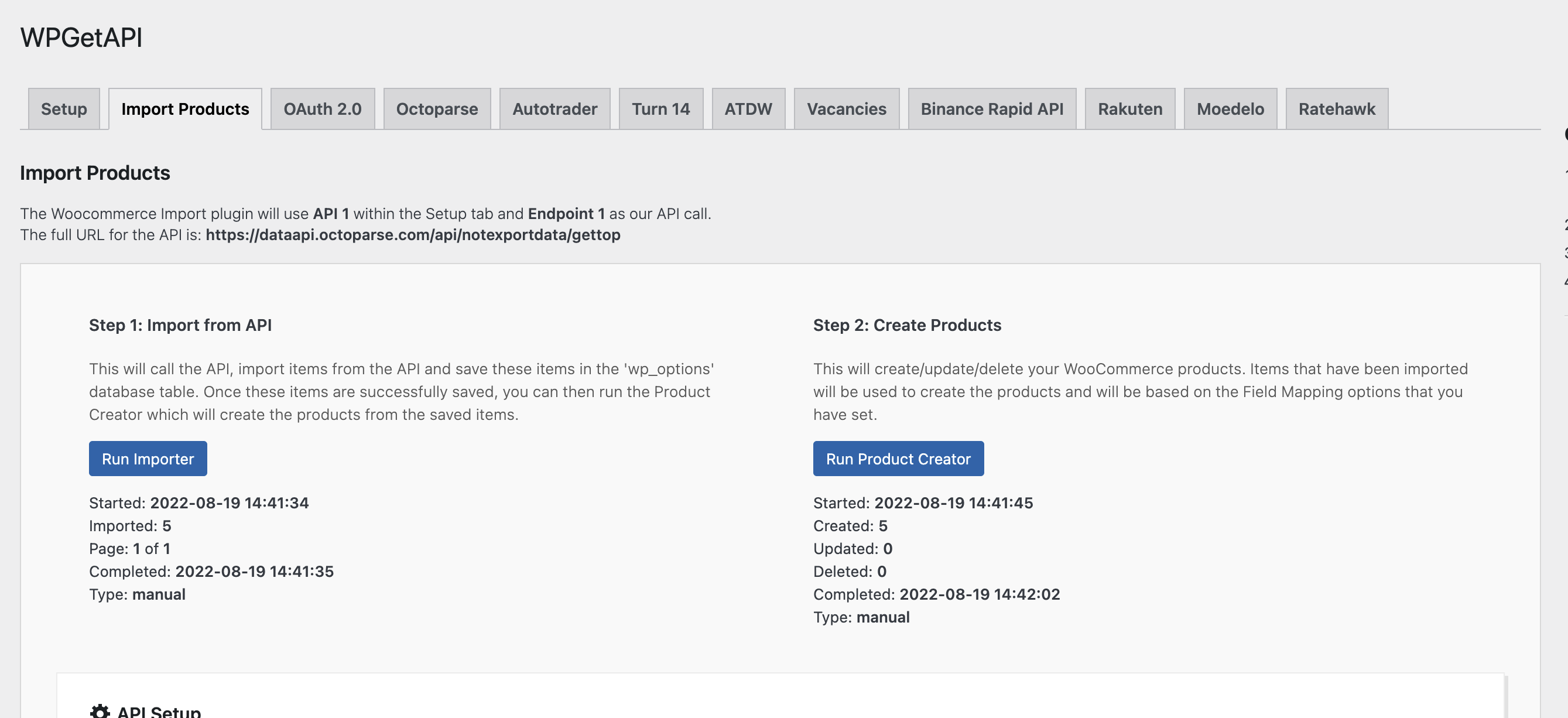 The Importer & the Product Creator
Clicking "Run Importer" will call the API, process the API data based on your settings, and save the API items in your WordPress site. "Run Product Creator" will create products from imported items, update existing ones, delete ones no longer in API, or just add new ones. You can then set these to run automatically to keep your WooCommerce products in sync with the API.
API & Products Setup
There are plenty of API options that allow you to filter your items, step down into nested arrays to get items, flatten arrays and more.
Product options let you set the status, max number of gallery images to import as well as settings that allow the automatic syncing of your API and WooCommerce products.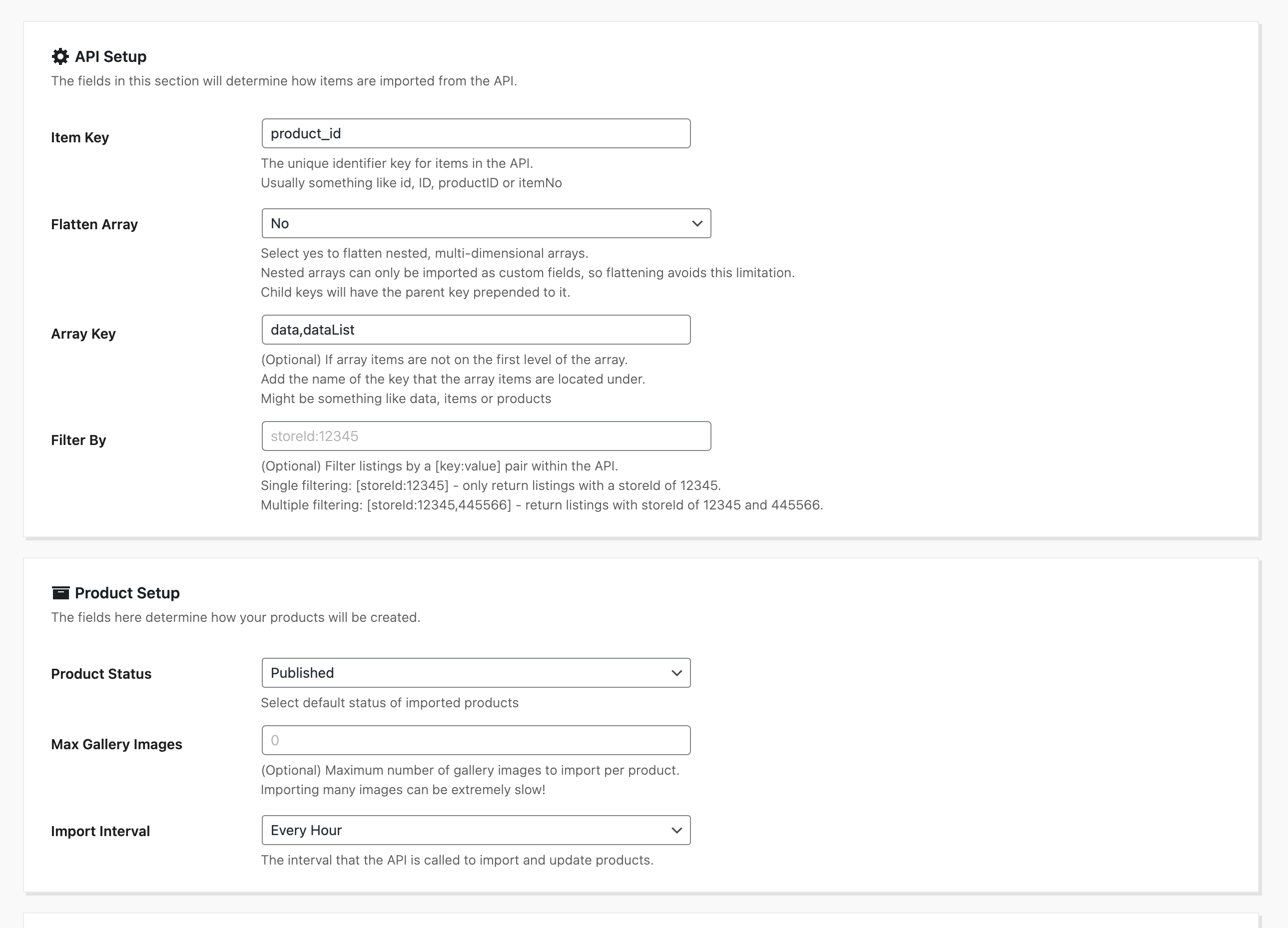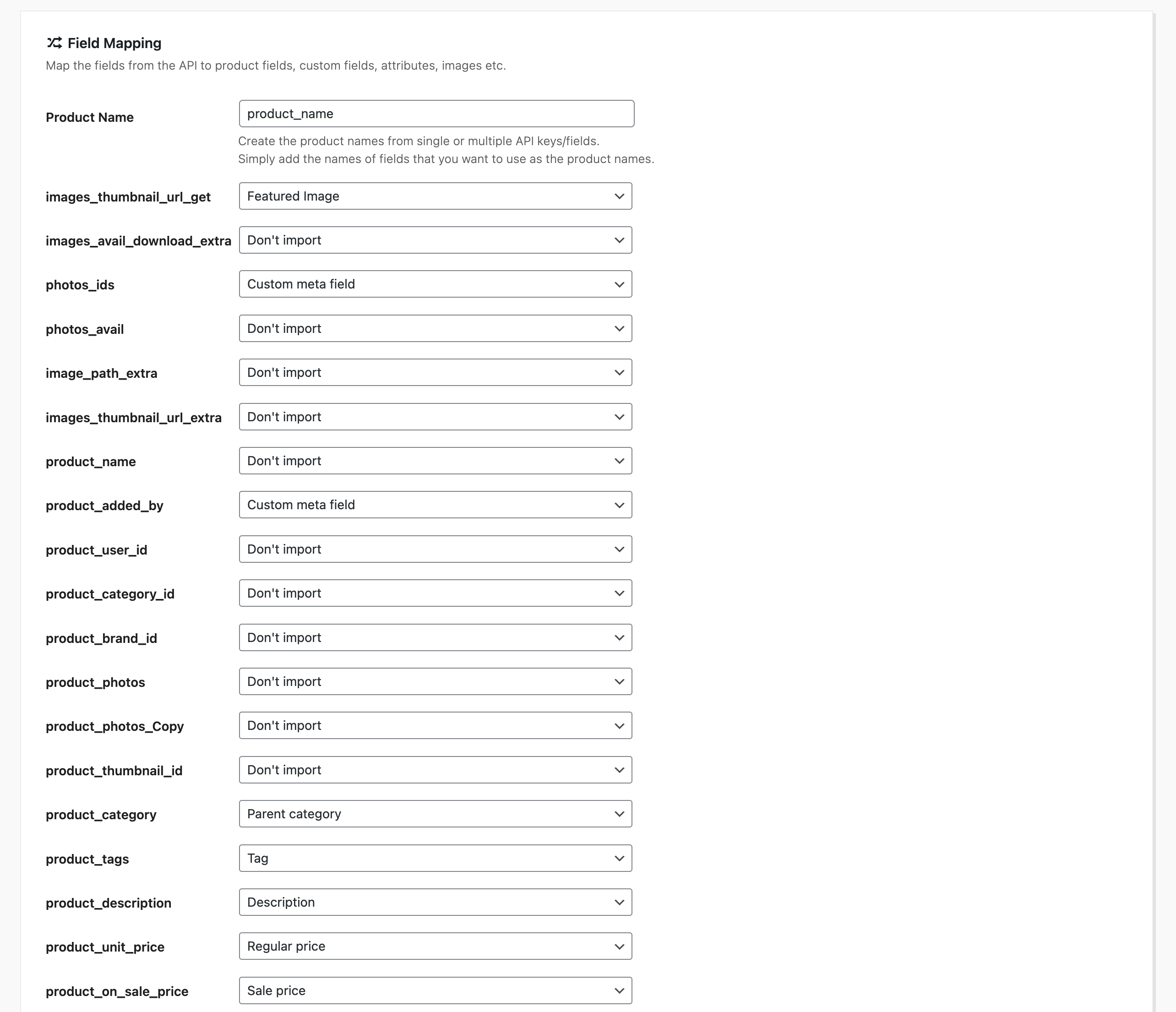 Field Mapping
Fields from your API can be mapped to WooCommerce fields such as price, attributes, tags, categories, SKU, height, weight, description, featured images, gallery images and more.
If you have custom WooCommerce fields, you can map to these as well.
Straightforward Pricing
Each license includes all features.
Single
$119.00 $109.00
annual subscription
All features unlocked
Use on 1 site
1 year support
1 year plugin updates
Premium support
Renews annually
Get the plugin
Extended
$179.00 $159.00
annual subscription
All features unlocked
Use on 5 sites
1 year support
1 year plugin updates
Premium support
Renews annually
Get the plugin
Unlimited
$419.00 $349.00
one-time payment
All features unlocked
Use on unlimited sites
Lifetime support
Lifetime plugin updates
VIP support
One-time payment
Get the plugin
14 day money back guarantee
Our plugins are backed with a 14 day money back guarantee. If our plugin doesn't work as promised, we will refund your money in full.
Common Questions
What types of payment do you accept?
We accept Visa and Mastercard payments through Stripe and PayPal.
Which currency is the pricing?
All of our pricing is in USD.
Do I still need the free version?
Yes, the free version is required when using any of our paid plugins. You can download it from the WordPress plugin directory.
Are there trial versions of the paid plugins?
We will have our new Demo website up soon. Stay tuned.
Will my plugin work if I cancel?
Yes, your plugin will continue to work if you cancel a subscription or if you don't renew a scubscription. Plugin updates will not happen though.
Do subscriptions auto renew?
Yes, subscriptions are set to auto renew but this can be changed to manual at any time.
Do I have to pay extra for support?
No, you will never pay anything extra for support. All of our plugins include some of the best support you are likely to find anywhere.
Will you help me set up the plugin(s)?
Yes, we we are more than happy to help with the set up of our plugins. We can help you over emails or if you provide an admin login, we can log in and set things up in a flash.
Still not sure?
Working with APIs can be daunting, difficult and downright confusing!
But we are here to help. We can help to integrate your API, write any code snippets required, style the output or basically anything else you need to make it a success!
Ask Us Anything
"
I have been doing the WordPress thing for almost a decade, Brant and team at WPGETAPI raised the bar today. If you are pushing data to API's this plugin, particularly the PRO version is 100% essential.
@Drew Juen
"
All I Can Say I Wow. Support Is Simply Amazing. If you are looking for a plugin to handle Woo to external API, Import and OAuth 2.0 please do not look any further.
@Krotov